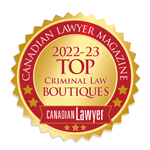 We are once again very honoured to be awarded the distinction as one of Canada's Top  Criminal Law Boutique Firms, as published by Canadian Lawyer magazine, February 02, 2022.
Reprinted excerpt from Top Criminal Law Boutiques :
Cooper Sandler Shime & Bergman LLP
Toronto criminal-lawyers.ca
The firm's founder was the late Austin Cooper, recipient of the G. Arthur Martin Medal, awarded by the Criminal Lawyers' Association for his contributions to criminal justice. Mark Sandler, the firm's senior partner, is also a recipient of the G. Arthur Martin Medal, a three-time elected bencher of the Law Society of Ontario and one of Canada's leading appellate and trial criminal litigators for 37 years. Most recently, he and partner Wayne Cunningham were successful before the Supreme Court of Canada in a landmark privacy decision (R. v. Marakah). Jonathan Shime, a lawyer for 18 years, has appeared before the Supreme Court of Canada pro bono for social justice organizations and specializes in HIV/AIDS-related criminal law issues. He recently represented the Canadian Civil Liberties Association on what is now the leading case in Canada on bail, R. v. Antic. Scott Bergman, the firm's third partner, has been with the firm for 14 years and represents clients charged in connection with complex financial offences. The firm also includes partners Megan Schwartzentruber, Wayne Cunningham, Amanda Ross and associate Ben Elzinga Cheng.